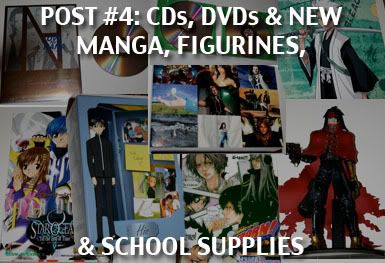 Welcome to my store/sales posts! As much as I have gone through many years of stuff, I really am tight on money now and have to give up all the things I collected over the years. I have taken good care of most of these items and I hope they will enjoy their new homes! More stuff to come than what is currently provided within the next few hours~
I will be selling many things over the course of the summer and the links below will be updated later in the day/this week, so please watch this if you are interested in the other items!

Prices are always negotiable~ *certain items (that range $1-3 come free upon large purchases)*

(information is included in userinfo or at the bottom of the page)

*TAGS INCLUDE SERIES AND TYPES OF ITEMS FOR QUICK ACCESS! =D

&
---

OTHER SALES POST
|#1 - Manga & Magazines|#2 - Cosplay Items, Wallscrolls and Posters| #3 - Anime Stationary/School Supplies, Figurines, Pins, Pillows, Bags and other Objects| #4 - CDs, DVDs, CD Case & More Manga and School Supplies|

*Sales post with more of these items will come in the future as well as many other new items!*


---
ITEMS ON HOLD
(
Paid and Shipped
Collapse
)
(
Payment Pending
Collapse
)
(
Items Open for Bidding
Collapse
)
ITEMS FOR SALE
(
DVDs
Collapse
)
---
(
CDs and Music Compilations
Collapse
)
---
(
Extra Manga + Folders + CD Case + Stickers + Art Book + Figurines
Collapse
)
---


SALES INFORMATION

Guidelines
- All images show actual current condition. If you are really antsy about the conditions, feel free to either ask for a) more images or b) a description, there will be no refunds, so I understand if you are worrisome about the particular conditions of certain items.
- All sales are negotiable. , Discounts will be given for mass sales and low-priced items can be given for free with large packages
- Shipping will come New Jersey, USA and shipping will be based off of both location and items. It will be worked out once we finalize the arrangement.
- Paypal only. If you absolutely need to work something else out it will be at your own risk. Paypal goes to lz_sngr@yahoo.com

How this Works
- This will work similar to an auction: You can can an item for the default price for 2 days. If there is no other bids, it will go to you. However, if someone offers a higher bid you will be notified of the change, and you can either bid for a higher amount or give the sale up for the other person. If you do not, the other person must hold the item for 2 days.

If you would like to bid for an item that is put on the 'on hold' list, respond to the comment left by the most recent bidder with your new price and all the details. This will notify the person with the highest bid of your new offer giving them a chance to respond.

After the item becomes yours, you have 3 days to send the Paypal invoice or it goes to the previous bidder or opens up for sales once more. If you have a problem with any of the day constrains feel free to ask. Items will be sent once payments are cleared and that will be ASAP. If you desire, I will keep you updated on this as well.

For all comments, please post with:
Items: (name everything you want)
Total Price: (calculate the price without shipping as that will be calculated afterwards)
Shipping Location: (Where the item will be sent)
Shipping Preferences: (if you have a shipping preference (overnight, etc) please let me know, it will change the price of shipping but it will also improve quality.)
Questions/Comments: Anything you feel the need to add

~Happy Sales!
STORE IS CURRENTLY CLOSED AND BEING CLEANED OUT. MAY REOPEN IN THE FUTURE.